Staff are characters players can hire to service the café as baristas or servers. All cafés begin with the same barista and permanent staff member, Ann. As players progress they can hire up to three additional employees in any combination of baristas and servers they like.
Baristas
Baristas are staff members who can make any recipe but special ones. They only serve customers seated at bar counters.
They can make recipes for customers seated at any type of tables or couches but cannot serve them: they set them on service tables, to be picked up by servers.
Baristas can only make one recipe at a time.
Servers
Servers are staff members who can usually only make simple recipes. They only serve customers seated at tables or couches.
When customers order recipes which require several ingredients, servers will relay the orders to the baristas using service tables. When the orders are ready they will pick them up from service tables.
Servers can only make, relay and pick up one recipe at a time.
Servers are able to make any kind of recipe but special ones for delivery orders.
Telephone Orders and Special Event Orders
Telephone orders become available at level 6 when you can purchase the phone. Three orders will be provided and in return for completing each one, you receive a combination of coins and a spice. When you check the phone for orders, a countdown begins so that the orders will refresh after 12 hours whether you complete any or not. You have the additional options to refresh the orders when you would like starting at a cost of 10 diamonds, and the cost for each additional refresh within that 12 hour period will increase.
(ex. Your 12 hour countdown begins, you complete all three orders, spend 10 diamonds to refresh now, your countdown does not start over, and if you want to refresh again, the cost goes up to 50 diamonds to refresh before that 12 hours is up.)
When you accept a telephone order, you will be given the option of assigning any of your staff to them, you can assign as many as you would like based only on how many staff you have at the time. But remember, you still have regular customers that will need tended to as well, so consider that when assigning. If you should change your mind, you are able to go back to the phone and remove employees from being assigned, or switch employees that are assigned.
Special event orders are ones brought to you by a specific customer stopping at your cafe for help. At this time, Diego and Nicole are the two who will stop by occasionally, for a period of time seeking help to fulfill orders. Along with the normal offer of coins and spice(s), they also offer additional perks as you fill more orders for them during the duration they are at your cafe. Depending on the current story, they can provide various levels of gifts: pink, blue, and gold along the way as well as special items not available for purchase in the store and diamonds.
These special events typically arrive with the goal of 30 orders in a span of 15 days that counts down from the time they arrive at your cafe. Once you complete an order, a countdown begins for 2 hours in which a new order will arrive. Similar to telephone orders, you can pay diamonds to speed up the arrival of new orders, however unlike telephone orders, you can not refresh orders to have them replaced. Once you have an order and accept it, you are required to complete it before you can move on. These orders tend to be larger, but with larger orders comes larger payback in terms of coins and spice(s). If you complete the 30 orders before the 15 days has come to an end, you are able to complete extra orders at the same rate of two hours or by paying diamonds, but no extra gifts will be provided - only the original coins and spice(s) that were offered.
Gaining Experience and Earning Coins
As the staff members you have hired serve your customers, they will gain experience that can be applied to special skills they may have (more about special skills below!) as well as earn coins to help fund future cafe renovations and to purchase the necessary equipment as your cafe grows. Staff members will gain experience only from the items they serve directly to customers themselves. For baristas, this means only the bar counter customers and for servers, this means only for the customers sitting at tables and/or couches. Neither receive experience from serving telephone orders or special event orders. Something notable about experience, experience is based on the gold the staff member earns at a rate of 1 xp per 10 gold.
When a customer serves an item to a customer, the customer will pay them the cost of the item plus a tip based on your decor. The money will show up in the form of a coin above the employee's head and collecting this money will go towards your overall amount as well as apply to one of the achievements.
Hiring Staff Members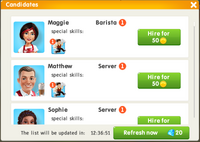 After your cafe levels up to level 4, hiring staff members becomes available. In addition to Ann who you begin the game with, you are able to hire an additional employee at level 4, the next at level 8 (or by unlocking early for 75 diamonds), and the final employee at level 10 (or by unlocking early for 499 diamonds). Initially, you will have three candidates available, but later on, a fourth will become available. These candidates will refresh once a day (every 24 hours). The cost of employees is based on what special skills or bonuses the staff member gives you. See more about special skills and daily bonuses below.
Currently Available Candidates
Name
Price
Occupation
Daily Bonus
Special Skills
Picture
Alex
16,000
Barista
Anise
Master Cappuccino M.O.
Alice
50
Barista
Speed
Alina
1,000
Barista
Master Tea M.O.
Alison
300
Barista
Master of Persuasion
Andrew
800
Server
Tip Master
Angelina
42,000
569D
Barista
Ginseng
Master Cappuccino M.O.
Ann
N/A
Barista
Simple Gift
Speed, All Items Prices
Annette
58,500
Server
Cardamom
Espresso Prices
Ariadne
1,500
Server
Tea Prices
Benjamin
59,500
Server
Tapioca
Tea Prices
Brad
44,000
Barista
Galangal
Master Latte M.O.
Catherine
1,000
Barista
Master Americano M.O.
Charles
31,000
Barista
Nutmeg
Master Cappuccino M.O.
Dean
50
Barista
Speed
Diana
42,500
Server
Ginseng
Latte Prices
Frank
3,000
Server
Espresso Prices
American Prices
Forest
65000
Barista
Americano M.O.

Hot Chocolate M.O.

Speed

Frederick
1,000
Barista
Master Latte M.O.
Helen
3000
Server
Hot Chocolate Prices
Ice Cream Prices
Jack
1,500
Server
Latte Prices
James
16,500
Server
Anise
Ice Cream Prices
Johnny
1,500
Server
Hot Chocolate Prices
Julia
449D
Server
Rose Petals
Cake Prices
Karina
3,000
Server
Tea Prices
Cake Prices
Kim
1,500
Server
Ice Cream Prices
Kitty
598D
Barista
Guarana
Master Espresso M.O.
Maggie
500
Speed
Marcel
66,000
599D
Barista
Saffron
Master Tea M.O.
Mary
1,500
Server
Americano Prices
Matthew
50
Server
Speed
Max
50
Server
Speed
Michael
44,500
Server
Galangal
Americano Prices
Milana
500
Server
Speed
Natalie
590D
Barista
Cardamom
Master Americano M.O.
Olga
62,500
Server
Guarana
Tip Master
Rob
590D
59,000
Barista
Tapioca
Master Americano M.O.
Sam
1,500
Server
Cake Prices
Samantha
2,000
Barista
Master Espresso M.O.
Master Cappuccino M.O.
Serge
31,500
Server
Nutmeg
Cappucino Prices
Sheldon
1,000
Barista
Master Hot Chocolate M.O.
Sophie
50
Server
Speed
Steven
180D
Barista
Master Latte M.O.
Master Tea M.O.
Victoria
700
Server
Speed
Master of Persuasion
Victor
1,000
Barista
Master Espresso M.O.
William
50
Barista
Speed