Staff are characters you can hire to work in your café as baristas or servers. All cafés begin with the same barista and permanent staff member, Ann. As you progress you can hire up to three additional employees in any combination of baristas and servers you like.
Baristas are staff members who can make any recipe but special ones.
However, they only serve customers seated at bar counters. They can make recipes for customers seated at tables or couches but cannot serve them: they set them on service tables, to be picked up by servers.
Baristas can only make one recipe at a time.
Servers are staff members who can usually only make simple recipes. They only serve customers seated at tables or couches.
When customers order recipes which require several ingredients, servers will relay the orders to the baristas using service tables. They pick the item up when they are ready.
Servers can only make, relay and pick up one recipe at a time.
Servers are able to make any kind of recipe but special ones for delivery orders.
Hiring and Firing Staff Members
Edit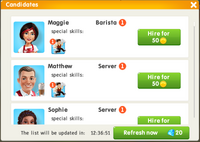 You can hire a second staff member at level 4, a third at level 8 (or by unlocking early for 75 diamonds) and a fourth and final one at level 10 (or by unlocking early for 499 diamonds). New candidates show up every 24 hours. You can fire any of your employees (except Ann) at any time.
The cost of employees is based on what special skills or bonuses they give you (see the list below).
Experience and Skills
Edit
Staff members gain experience points by directly serving customers: bar counter customers for baristas and table customers for servers. Neither receive experience from delivery orders. Staff members get one 1 point for each fulfilled order: if a customer orders three items, the employee gets the point once they have served the three items.
When employees have gotten a certain number of points you can upgrade one of their skills. The thresholds they need to reach increase as they get more skilled.
Level 1: 50 xp points
Level 2: 100 xp points
Level 3: 250 xp points
Level 4: 500 xp points
Level 5: 1,000 xp points
Level 6: 5,000 xp points
Level 7: 10,000 xp points
You can also spend 99 diamonds to upgrade a skill if the employee does not have enough points yet.
Skill upgrades are permanent: you cannot undo them. If you fire an employee then wish to hire them again later, their skills will not have been reset.
Some employees can have one or several skills already upgraded when you hire them.
Tips are based on your interior decor, and can also be increased by staff members with the Tip Master skill (see the list below). Fernando can tell you what your tip level is at any time.
Staff Candidates
Edit
Note that prices may vary, as well as skill levels. This lists the cheapest prices as seen by players. Please edit or comment if you have additional information.
Candidate
Price
Job
Daily Bonus
Special Skills
Alex

$16,000
Barista
Anise
Master Cappuccino M.O.
Alice

$50
Barista
x
Speed
Alina

$1,000
Barista
x
Master Tea M.O.
Alison

$300
Barista
x
Master of Persuasion
Andrew

$800
Server
x
Tip Master
Angelina

$5,690
Barista
Ginseng
Master Cappuccino M.O.
Ann

N/A
Barista
Simple Gift
Speed, All Items Prices
Annette

$58,500
Server
Cardamom
Espresso Prices
Ariadne

$1,500
Server
x
Tea Prices
Benjamin

$59,500
Server
Tapioca
Tea Prices
Boris

$1,500
Server
x
Espresso Prices
Brad

$44,000
Barista
Galangal
Master Latte M.O.
Catherine

$1,000
Barista
x
Master Americano M.O.
Charles

$31,000
Barista
Nutmeg
Master Cappuccino M.O.
Dean

$50
Barista
x
Speed
Diana

$42,500
Server
Ginseng
Latte Prices
Frank

$3,000
Server
x
Espresso Prices
American Prices
Forrest

$5,000
Barista
x
Master Americano M.O.
Master Hot Chocolate M.O.
Speed
Frederick

$1,000
Barista
x
Master Latte M.O.
Helen

$3,000
Server
x
Hot Chocolate Prices
Ice Cream Prices
Jack

$1,500
Server
x
Latte Prices
James

$16,500
Server
Anise
Ice Cream Prices
Jennifer

549 diamonds
Barista
Star Anise
Master Latte M.O.
Johnny

$1,500
Server
x
Hot Chocolate Prices
Julia

$4,490
Server
Rose Petals
Cake Prices
Karina

$3,000
Server
x
Tea Prices
Cake Prices
Kim

$1,500
Server
x
Ice Cream Prices
Kitty

$5,980
Barista
Guarana
Master Espresso M.O.
Maggie

$50
?
x
Speed
Marcel

$5,990
Barista
Saffron
Master Tea M.O.
Mary

$1,500
Server
x
Americano Prices
Matthew

$50
Server
x
Speed
Max

$50
Server
x
Speed
Michael

$44,500
Server
Galangal
Americano Prices
Milana

$500
Server
x
Speed
Natalie

$5,900
Barista
Cardamom
Master Americano M.O.
Olga

$62,500
Server
Guarana
Tip Master
Rob

$5,900
Barista
Tapioca
Master Americano M.O.
Sam

$1,500
Server
x
Cake Prices
Samantha

$2,000
Barista
x
Master Espresso M.O.
Master Cappuccino M.O.
Serge

$31,500
Server
Nutmeg
Cappucino Prices
Sheldon

$1,000
Barista
x
Master Hot Chocolate M.O.
Sophie

$50
Server
x
Speed
Steven

$1,800
Barista
x
Master Latte M.O.
Master Tea M.O.
Suzanne

$1,000
?
x
Master Cappuccino M.O.
Tony

$5,590
Server
Saffron
Master of Persuasion
Victor

$1,000
Barista
x
Master Espresso M.O.
Victoria

$700
Server
x
Speed
Master of Persuasion
William

$50
Barista
x
Speed